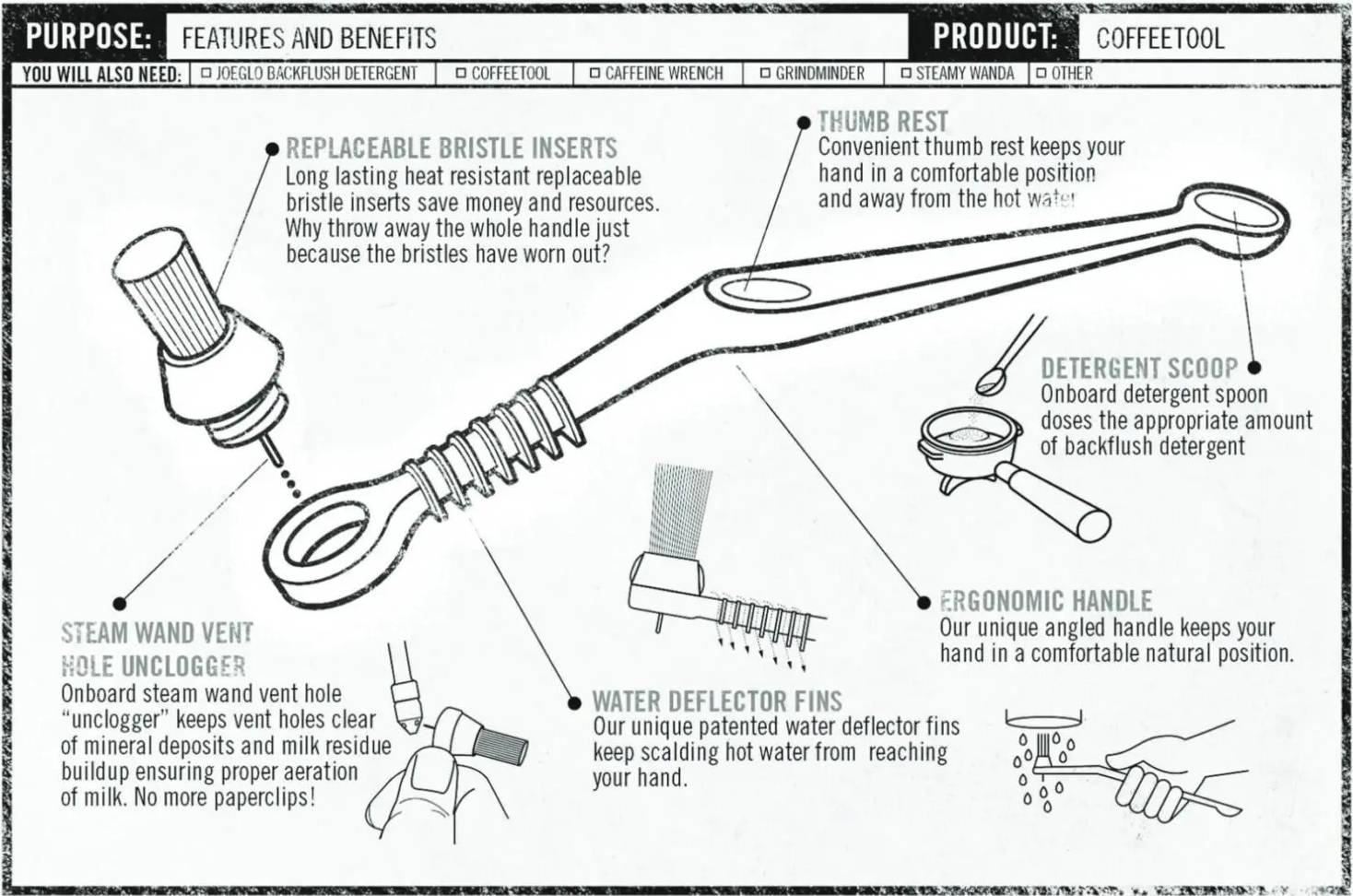 When to Use Pallo Coffee Tool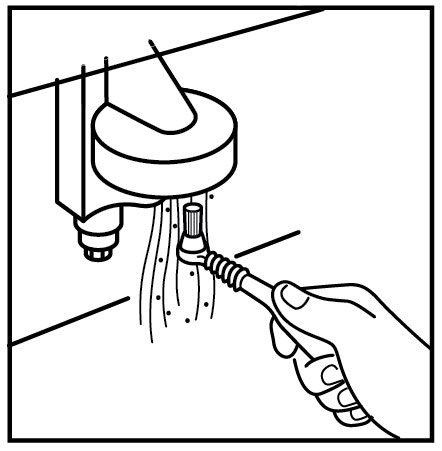 Use Pallo Coffee tool group head brush as often as you like including when flushing the system after backflushing. The important thing is to keep your group head clean throughout the day. Some top baristas use Pallo Coffee tool group head brush to clean spent grounds from the shower screen after every shot.
How to Use Pallo Coffee Tool
Brush the group head screen and channel with the Pallo Coffee tool while the water is running. The Coffee tool water deflecting fins will keep your hands dry and cool.
Place your thumb over the oval before the bend in the Coffeetool neck. See illustration

NOTE: Always move the Coffee tool in a clockwise motion when brushing grinds and debris from the group head to avoid loosening the Coffeetool bristle head insert

The Steam Wand vent hole cleaner keeps vent holes clear of mineral deposits and milk residue, ensuring proper aeration of milk
NOTE: Some of the following steps require a commercial or semi-commercial back flushable espresso machine. If you are unsure if your espresso machine fits this profile, check with your espresso machine manufacturer before proceeding. If your machine is NOT a back flushable commercial or semi-commercial espresso machine, use step 3 ONLY. Backflush Diagram is on JoeGlo page. Go to the "How to Use" drop-down menu and choose JoeGlo.
Using Pallo Coffee tool group head brush's onboard detergent spoon, place a spoonful or less of JoeGlo (or your favorite backflush detergent) into a "blind insert" (without holes) in your portafilter handle.
Attach the portafilter to the group and start backflushing your machine, following the instructions on your detergent package.
When it's time to flush out the system, run the group and start scrubbing the shower screen and the nooks and crannies of your group with the Pallo Coffee tool group head brush. Always move the Pallo Coffee tool group head brush clockwise when cleaning the group head channel to avoid unscrewing the bristle head. This is a good time to use the Pallo Coffee tool group head brush as the hot running water helps wash away spent grounds, rancid coffee resins, flavors, and odors. The benefit of using the Pallo Coffee tool is apparent at this stage as your hands stay cool and dry.
backflush your machine again, this time without detergent, and repeat step #3
Use the Pallo Coffee tool steam wand vent poker to unclog steam wand vent holes that have become clogged with dried milk residue or other debris (rust, hard water deposits, etc.) from inside your steam wand.