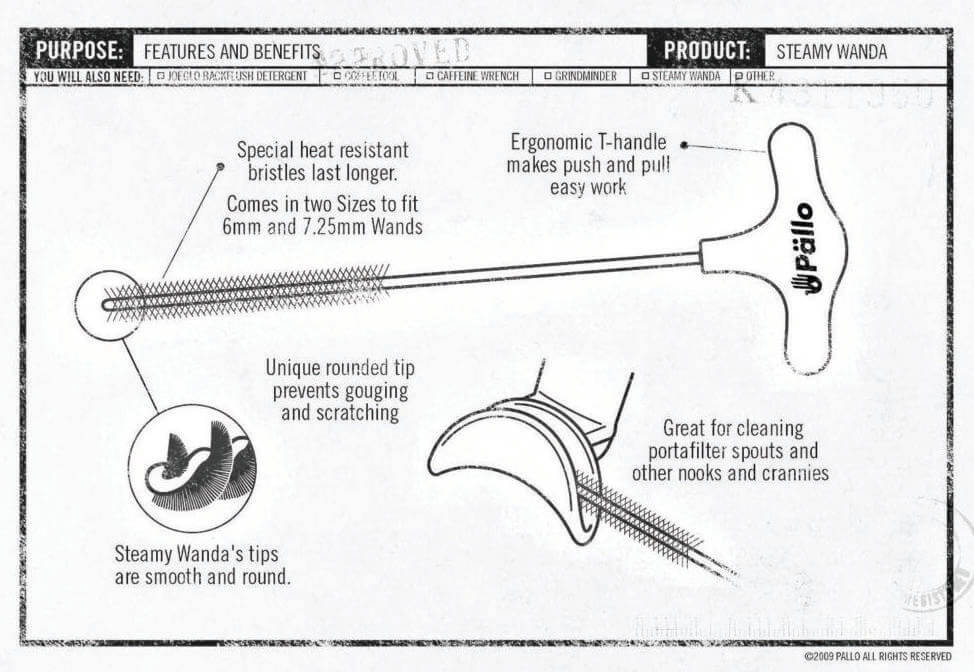 What do I do with the Steamy Wanda?
Use Steam Wanda to scrub the insides of your steam wand. Even if you use steam to regularly blow-out milk residue from your steam wand, rust and hard water deposits can accumulate on th inner walls. Use Steamy Wanda to regularly clean this accumulation out.
The Steamy Wanda also can be used when cleaning your portafilter handles. Use the Steamy Wanda to scrub the hard to reach spout areas.
How do I hold Steamy Wanda
Place the plastic handle in your hand. Allow the twisted wire to lay between your index and middle fingers. Now make a fist and you are ready to go.
IMPORTANT: When cleaning inside the steam wand NEVER turn the Steamy Wanda to the left (counter clockwise) or the twisted wire can untwist, loosening the bristles.
Will the large (RED) version work on my small diameter wands?
Yes, It will work, but the small version will work better. The bristle ends are stiffer and work better straight than the oversized bristles which are bent to fit in the smaller orifice.
Will the small (GREEN) version work in my large diameter wand?
No, the small version won't even touch the sides of the larger diameter wands.
For more information or if you have a specific question. Please call (415) 381-2079 or send us an email to [email protected].