Pallo Caffeine Wrench, The Baristas Multi-Tool
Are you a busy barista looking to reduce daily stress and work faster and smarter instead of harder? Then you're in the right place to learn more about the Pallo Caffeine Wrench, or in other words, barista's multi-tool.
Here you can learn all the reasons why it's a must-have for your pocket and all it's features.
What is A Pallo Caffeine Wrench
If would like to clear the clutter and simplify your workspace the Pallo Caffeine Wrench barista multi-function tool is a must-have. Enjoy the many useful features all in one elegantly designed tool. You will no longer need to store separate wrenches, screwdrivers, thermometer calibrator, or a bottle opener since the Pallo Caffeine Wrench shares all of those features in one tool.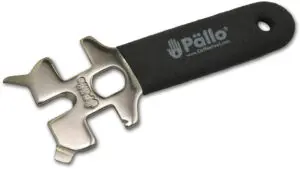 The Pallo Caffeine Wrench has three different-sized wrenches. It is available in 8mm, 12mm, and 13mm sizes. The center opening is used to calibrate a thermometer. Don't let its small size fool you; while it's compact and saves space, it's also quite useful.
What is the Purpose of it
Essentially, the caffeine wrench is an all-purpose tool for your coffee bar or shop. It's not only useful but also well-made. It's made of stainless steel and has a slight bend at the neck. Some group assemblies are held in with a 7mm or 8mm hex bolt. The bend allows for easy access to this area.
You can use it to remove the filter screen, pry off the portafilter basket filter from the portafilter, or use it to scrape dried milk off the steam wand. It's vital you have this tool handy and easily accessible when you have an espresso machine or are running a speciality coffee shop.
Benefits of Using A Pallo Caffeine Wrench
The caffeine wrench is designed to help you perform routine tasks and adjustments with the least amount of effort. You will need just one gadget such as this one to perform a number of tasks. Below are a few benefits and ways in which you can use the caffeine wrench while on the job:
Soft gasket probe
Light duty screwdriver
Milk residue scraper
Thermometer calibrator
Steam wand tip wrench
Bottle opener
Group bolt wrench
Portafilter basket pry (A basket pry makes it easy to "Pop" the basket from your portafilter handle
Simply slide the basket pry/screwdriver under the lip of the basket and turn the tool like you would a house key. Then "pop" goes the basket.)
You must be able to do your job well and fast when your coffee shop has many orders to fulfil and customers to serve. It's important that you also are diligent about keeping your coffee and espresso makers clean and sanitary.
Easily maintain your coffee equipment and espresso machine by getting yourself one of these nifty gadgets today.
Tips & Tricks
You may have some questions about the caffeine wrench before using it that we are happy to answer. For example, you may want to know what the gasket probe is used for. Groups come in all different shapes, sizes, and configurations depending on your machine. The gasket probe can be used to remove soft gaskets for maintenance and replacement from many different groups. The probe is great to use if there is a screw or bolt in place holding together the group assembly.
Another question you may have is why is there a wand scraper on the wrench? Proper wand maintenance is necessary as a coffee employee or shop owner. Although you should try not to let your wand get so dirty it needs scraping, stuff happens. If this is the case, then after soaking in a solution like JoeGlo (or even hot water for that matter), a gentle scraping with a bevelled, contoured tool works great to remove milk buildup on the wand. You'll discover that it's a gentler and more efficient solution than a scraper or knife blade.
How to Use
The Pallo Caffeine Wrench includes an 8mm, 11mm, 12mm, and 13mm wrench fitting. The product dimensions are 4.8 x 0.2 x 1.8 inches. All you have to do is hold the wrench by the rubber handle and use it to remove your steam wand tip, for example. Remove the group screen, pry off the portafilter basket, and tackle many other tasks with this versatile tool!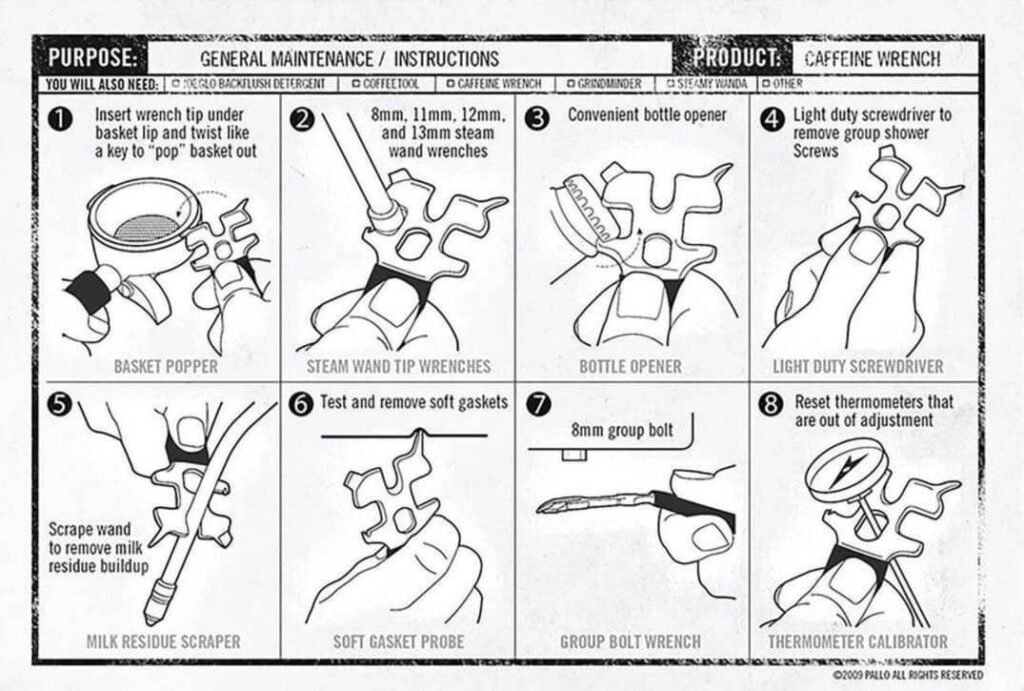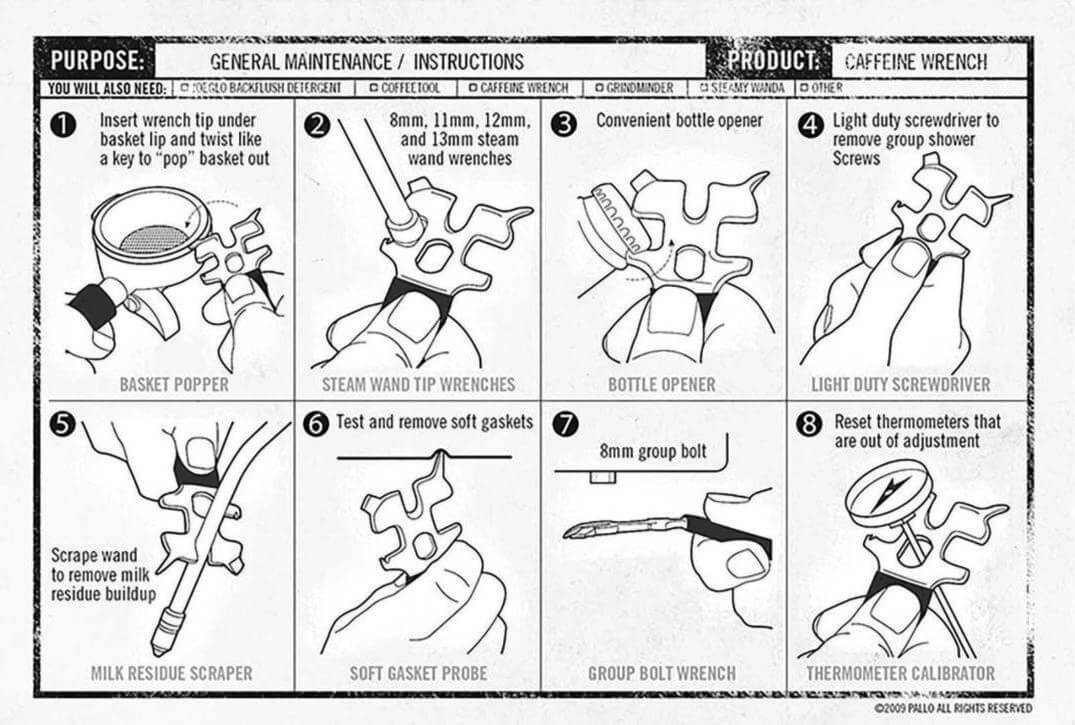 Next Steps
If you're a busy barista in need of a multi-functional tool that gets the job done quickly and right then you're in luck. Get your caffeine wrench today so that you can better serve your customers and keep your equipment clean and working effectively. In addition to the caffeine wrench, you may also find the Pallo Coffeetool a must to have and use. Use Pallo Coffeetool grouphead brush as often as you like including when flushing the system after backflushing. The important thing is to keep your group head clean throughout the day.
For more information about our company or products, or if you have any specific questions then please call 415-381-2079 or send us an email at [email protected].
About Us
In 2003, we introduced JoeGlo Backflush Detergent at Coffeefest in Seattle, Washington. Our first tool, the Pallo Coffeetool group head brush, revolutionized group head cleaning. Baristas no longer need to worry about scalding their hands while cleaning the group head. Our patented design quickly became an essential barista favorite. Every tool we design is with our customer's needs in mind.
As a family-owned business, we take the time to listen to our customer's needs and go the extra mile to provide excellent customer service. Our products continue making cleaning and maintenance faster and easier for baristas and roasters everywhere. Go ahead and give our products a try. You'll find that you save time and that your customers taste the difference in their next cup of coffee because we mean clean!